Fourteen classic cars.
Twelve weeks of restoration.
Four Hiester Automotive dealerships.
One charity receiving auction proceeds!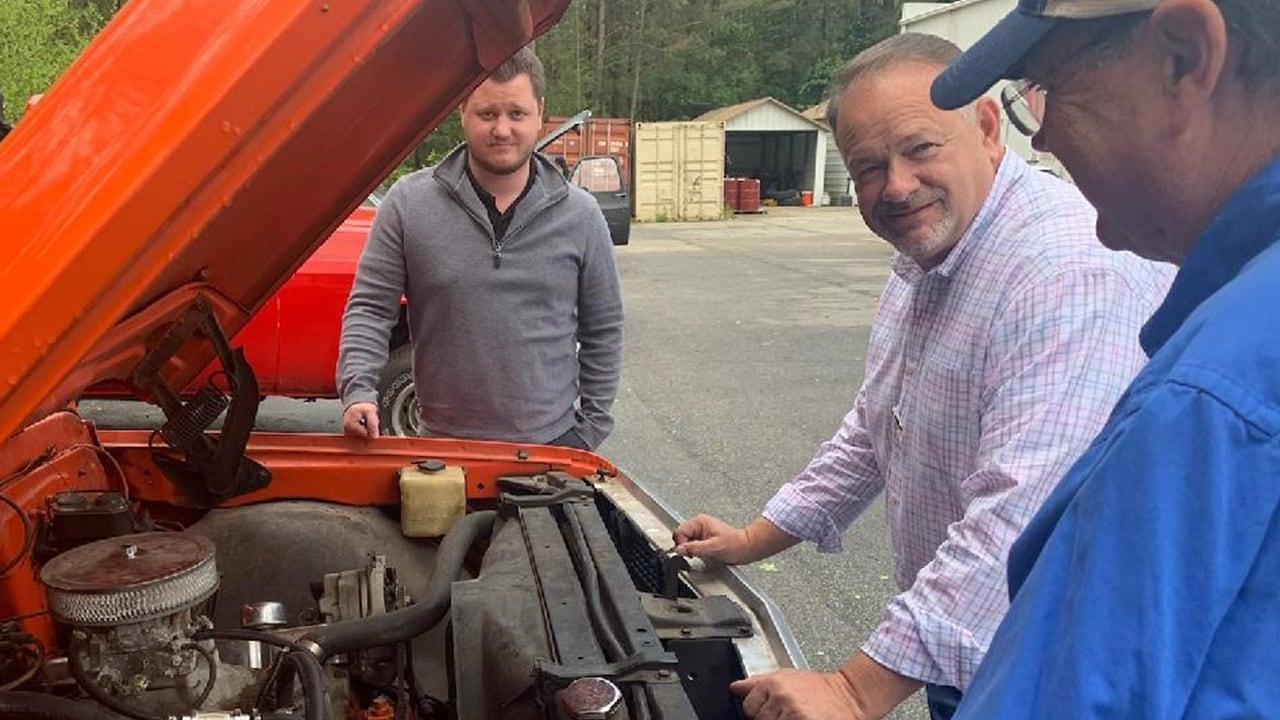 The Restoration Race Is On!
John Hiester has bought 14 classic cars, and our Service Technicians are competing to perform the best restoration! Danny "Count" Koker helps each team chart the course of their restoration, from our '69 Charger to our '91 Silverado. After the last episode, vote on the winning restoration that we'll auction off for charity!
Each Hiester Automotive dealership received 3 to 4 vehicles, with twelve weeks to restore these past beauties. Tune in to see their plans, progress and final restorations with our new web series Count's Kulture, brought to you by Ally!
Web Series Intro: Count's Kulture!
Team Banana Peels
We're reviving this 1975 Chevrolet Camaro's performance with a new fuel tank sending unit, engine harness, MSD ignition, plug wires, brake booster and transmission shifter. In addition to upgrading some outdated parts like door locks and wiper arms, this Camaro will also have brand-new door glasses, an instrument panel cluster, and new speakers!
Latest Mentions:
Team Blues Traveler
When we're through, welcome a new 1972 Chevrolet Monte Carlo with an all-new carburetor, torque converter, head kit, motor and transmission mounts, red spark plugs, radiator, intake manifold, battery, oil and fuel pumps, electric fan controller and shift improver kit. We're also adding new silver Rally wheels, woodgrain gauge surround, and a 3" stainless exhaust!
Latest Mentions:
Team Creamsicle
This 1972 Chevrolet C10 is getting a full refresh with a new carburetor, MSD ignition bar and distributor, disc brakes, coolant lines spark plug, oil pump, shocks and springs and more! Plus, look for the chrome with a new chrome radiator, alternator, master cylinder, kit, and front grille!
Latest Mentions:
Team Dart
We're restoring this 1972 Dodge Dart with a new radiator and fan assembly, radiator shroud fan relay, disc brakes, rotors, brakes and spark plug! We'll also install a new cooling fan install kit, gasket material, engine oil, oil filter kit, and all filters and fluids.
Latest Mentions:
Team El Dorado Topless
This 1976 Cadillac El Dorado convertible is getting a refresh with new HVAC parts, engine belts, wheel bearings, and repaired power steering. With the addition of all-new seat re-upholstery in the interior, a new right rear window regulator, some interior hardware, and other upgrades, this El Dorado will be ready to hit the road when we're through with it!
Latest Mentions:
Team Essential Customs
We're bringing this 1974 Dodge Dart Swinger back to life while maintaining it's 70's muscle car roots! Key changes include a Flowmaster exhaust, electronic fuel injection, a camshaft, and rebuilt suspension. The 318 engine is getting a nice Hemi Orange makeover, accenting the new Plum Crazy Purple body, black hood and sleek all-black interior.
Latest Mentions:
Team Garter
We're overhauling the 1965 Chevrolet C10 with a new intake and carburetor kit, distributor/spark plugs, crankshaft, disc brake conversion to power discs, radiator, and more! To boost street presence, we'll also wrap it and add a new hood, fender emblems, tail lamps, chrome accessories, wheels/tires, an all-new wooden bed, and a great audio system.
Latest Mentions:
Team Golden Eagle
A true jewel of its era, our 1978 Jeep J10, Golden Eagle edition, will shine when we're done with it! In addition to upgrading outdated parts like lights, door handles, weatherstripping, and hoses, we're enhancing it with an aggressive and trail-rated look with a lift kit, bigger tires, and Hemi Orange engine and body pinstripes!
Latest Mentions:
Team Honey Badgers
This 1984 Chevrolet K10 4x4 will have an all-new AC compressor, condenser, evaporator core, hoses, and more! Plus, drive this K10 with the enhanced comfort of a new blower motor and heater control assembly with new ducts and vents.
Latest Mentions:
Team Jeep
This 1978 Jeep CJ will roar with a new master cylinder, starter, gas tank, gauge, fuel line, fuel pump, spark plug and starter solenoid! We're also upgrading it with a drum adjustment kit, hydraulic clutch kit, brake booster kit, and more.
Latest Mentions:
Team Little Red Express
This 1971 Dodge D100 pickup is getting a new 318 engine with long tube headers, electronic fuel injection instead of a carburetor, and disc brakes instead of drum brakes. To restore this American legacy, we are adding chrome side stack exhaust, custom-built wood grain panels, new front-end suspension, and a more aggressive stance by raking the front end!
Latest Mentions:
Team Ramcharger
We are giving this 1988 Dodge Ramcharger a classic Starsky and Hutch paint job with an all-black sinister exterior and red anodized trim, matching rims, an all-black interior, window tint, plus a modern Dodge 2-stripe logo rolling from the hood to the front fenders! Under the hood, we're removing the engine to reseal and adding a camshaft to rattle your bones.
Latest Mentions:
Team Road Runner
This 1969 Plymouth Road Runner will see better days once we overhaul the engine and replace the hood gasket, hinge pin, radiator, hog rings, brakes and calipers! In addition to some outdated parts, we're also replacing the exhaust and bumpers and repairing the paint and body on this classic.
Latest Mentions:
Team Swamp Donkeys
To overhaul this 1991 Chevrolet K 1500, we're addressing the fuel delivery system, cleaning up items under the hood, and correcting the AC system. In addition to checking over everything, we will have a brand-new cluster, Dakota digital, lock cylinders, headlamps, and Alpine head radio unit!
Latest Mentions:
No posts found by your specified sources.